Whether you want to find other sensitive, empathic, reflective people to connect with, or you're just looking for some respite from the noisy world, The Haven is your virtual home.
It's an online village where you'll find nooks and crannies inviting you into rest, creative play, and (re)connection.
The Haven was founded by me, Andy Mort. I am a songwriter and creativity slow coach based in the United Kingdom.
The Haven began life as somewhere to connect with those of us I like to think of as "gentle rebels". I wanted to build somewhere for us to slow down, explore the deeper parts of life, and identify meaningful goals that suit our personality and temperament.
With the support of my good friend and sous chef, Tuula Ahde, we have developed The Haven with regular resources, live-events, and forum discussions. It has become a sanctuary of safety and support for those of us who need (and crave) time and space to process deeply.
So if you're someone who feels overwhelmed by the pressure to do more, be busy, and hustle, we invite you to slow down and experience the world with a gentler and more expansive spirit.
Deep and meaningful growth is usually a product of seasons, cycles, and repetitive rhythms. By returning to the same nine core themes of human becoming, we recognise our place in a bigger story.
The themes allow us to open a gradual conversation with ourselves. Acting like reliable tracks we can return to, they are both fresh and familiar, like deep life-affirming breath. This rhythm helps us identify and move in sync with what truly matters, apply ourselves with purpose, and develop the peace of mind to deal with the unexpected twists and turns that life throws before us.
If you're feeling weary from following paths and patterns that leave you feeling disconnected, tired, and at odds with your own inner creative, playful, joyful spirit, then I'd love to welcome you to stay here for a while.
This is a place of safety. Where it's OK to be who you are, how you are, wherever you are, right now. There are no pressures, expectations, or demands. It's an invitation to just be.
What does this make possible?
This is a favourite question to ask in all manner of situations. When we allow ourselves to believe in the possibility of change, we can move beyond the inner critic that throws limiting beliefs and negative excuses in our path. We can transcend ruts that hold us to old assumptions, ideas, and stories.
We might say, 'I'm too old', 'too inexperienced', or 'not good enough'. These can become self-fulfilling prophesies that we reinforce and affirm. But by shifting our beliefs and telling ourselves a different story about the possibilities, we can make huge changes in small and simple ways.
This is foundational to our journey of becoming who we are forever in the process of becoming. Not to land at some magical destination, but to reflect an adventurous story of gentle expansion from the inside out.
Society often confuses fitting in for belonging. It reinforces the message that if we want to feel like we belong we need to become more of what the world wants us to be. But this can cost us everything. When we choose to fit in to the world 'out there' we often have to sacrifice a sense of belonging to who we truly are. And that never feels good.
Fitting in forces us to compromise our most authentic desires and values. It leaves us caring about and pursuing things that don't matter to us. Chasing what we're supposed to at the expensive of things that really do matter to us (our true values, desires, and feelings, as well as our intuition and the gentle creative voice within).
In The Haven we embrace and nurture the joy of not fitting in. Cultivating the courage to step into the truth of who we are at the level of acceptance and compassion (in relation to ourselves and others).
In The Haven we recognise Serenity as something we find within the pains and struggles of life. It's not some dream destination where we no longer have any troubles or worries. It's found in the cracks of life, and emerges when we surrender to the truth of struggle and pain - and understand that we are not alone. That everyone has a story to tell.
We all have experiences of loss, grief, and trauma. Those unique marks on the ring around the tree trunk. And serenity is found when we step out of our loneliness and into compassion - where we connect in the mess, chaos, and confusion of life. And accept ourselves, one another, and the truth that life IS wedded to suffering. But also that we experience love through connection with one another IN our suffering. In our pain. In our grief. And in the shared feeling that we don't quite fit…and that's OK. In fact it's beautiful. And it's true for all of us.
Strength is a word that means something different to everyone. In The Haven we explore the concept of strength as a deep,  pool of quiet courage. Not as a grand display of power and control over each other and the world 'out there'. But as the choice to do the right thing, even when our voice shakes. To care for what actually matters most rather than what we're told matters most.
This kind of strength is underpinned by sensitivity, gentleness, and compassion. Not violence, hostility, and control over other people. Where the latter are fuelled by fear and division, the former are inspirited by love and humanity. We explore the strength it takes to belong, build up, and love, rather than to fit in, tear down, and destroy.
Confidence takes shape in different ways. It's like the leaves, the blossom, and the fruit. And there are times when it feels like it's missing. But on the journey of becoming, being, and belonging, our confidence is growing all the time, even when it doesn't feel like it.
We can be confident in the work we are doing or processes we are following, even when we don't feel confident ourselves. In the right conditions growth happens, however we feel about it.
We don't need confidence in order to start, we need to start in order to nurture the terrain for confidence to grow. In many situations confidence, patience, and faith are three parts of the same equation.
What might it mean for us to accept that life is an adventure? The word conjures different images for each of us. But it doesn't matter who we are or what has happened in our life so far, there is an adventure waiting to be written and explored on our own terms.
The question for many gentle rebels can often be... who's adventure are we trying to live? Or perhaps, who's adventure do we believe we're suppose to live?
In The Haven we gently examine some of the expectations and assumptions about what we feel like we're "supposed to" be and do. And to gradually shift any people pleasing or perfectionist tendencies. So that we might connect with the treasure we truly want to find in life.
Through the eyes of gentle rebellion, creativity is at the heart of the impact we can make with our lives. Creativity is the explicit tangible stuff, like art, writing, and music, but it's also the implicit and less tangible stuff, like encouragement, play, and connection with others.
When we live life with a creative spirit, we become aware of how our small choices, values, and actions, contribute to the overall picture. And we get to decide how we use this magic. To contribute to the world, or to take away from it.
We choose what kind of world we are creating, and either way, it's infectious.
If Serenity is an experience of peace and a calm in the way we engage our inner world, Tranquility is created through the choices we make in designing and relating to our external world.
We consider how to design conditions for more calm, peace, and gentleness in every day life. We can develop environments, routines, and habits, that set us on a tranquil footing.
We explore the potential obstacles that prevent tranquility, so that we can get those big rocks into the heart of life, that allows us to foster more time, energy, and focus on the things that matter most.
Inspiration is like respiration. A system of input and output. In-Breath and out-breath. The air we inhale is found in what we exhale, and what we exhale gets inhaled by others.
If we breathe in from an environment of toxicity, panic, and urgency, we will give that back to the world. If we fill our space with gentleness, compassion, and acceptance, we will breathe out with more care and abundance.
Inspiration is gradual and rhythmic. It takes time to fill the lungs of our being with healthy spirit. And it requires patience and courage to avoid the smoggy clouds that society wants us to inhale.
The Haven is built around a virtual village. With a Theatre, Library, Café, Fireside, and Kota Hut, you'll find lots of space to reconnect with yourself, as well as a variety of places to meet other people.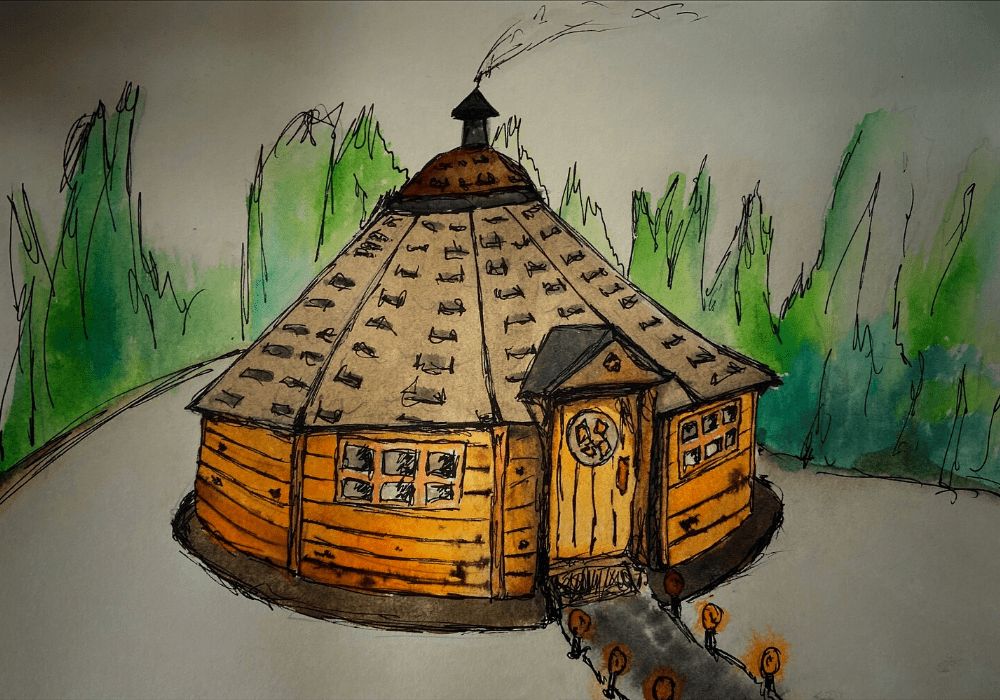 The Kota
Where we meet to explore particular aspects of our monthly theme, create, dive deep, and learn together.
You'll find Theme Kotas, Creative Krafty Kotas, Courtyard Kotas, and a variety of PopUp Kota meetings throughout each season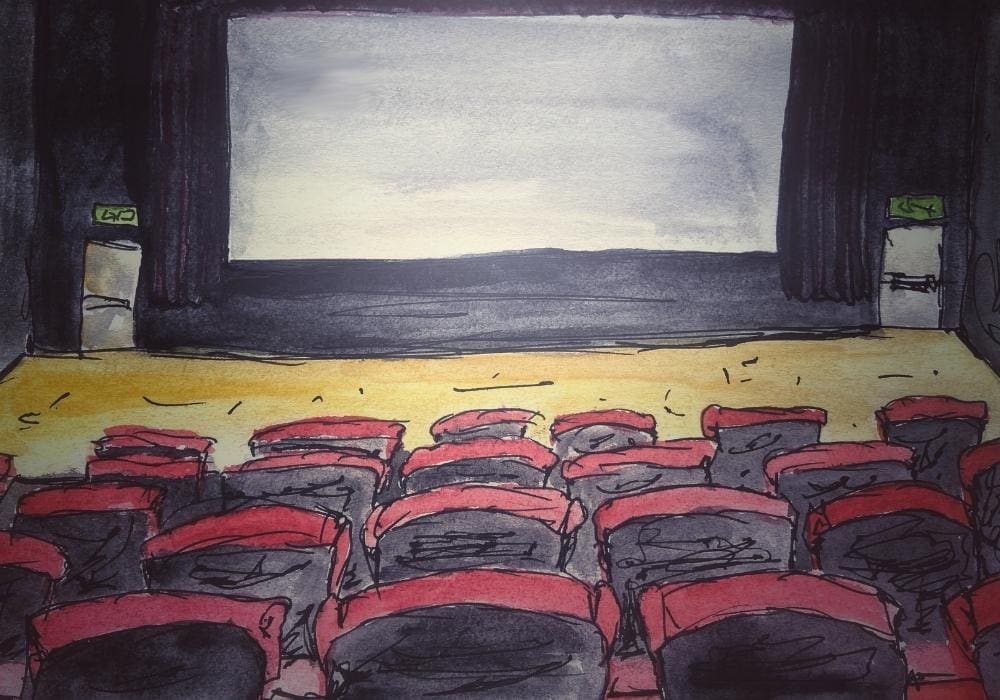 The Theatre
This is where you can catch up with the latest theme videos, interviews, and resources. As well as replays from recent live sessions.
The Café
Breathe in the cosy aromas of your favourite food and drink, as you join us in the meeting place where it's safe to be who you are.
Have conversations while nurturing deep connections within a spirit of expansion, peace, and playfulness. There are written forums where you can start conversations and get involved in existing discussions.
Most Mondays we have the Live Café Hour where we spend 80 minutes "alone together", giving time to the important stuff.
The Library
Archive of all past resources including an array of interviews, courses, and book reviews.
Move through the great candle-lit corridors and dive into the historical galleries of videos, interviews, eBooks, creative projects.
You can easily search the archives, which are curated to simplify your quest for personal growth and meaning making.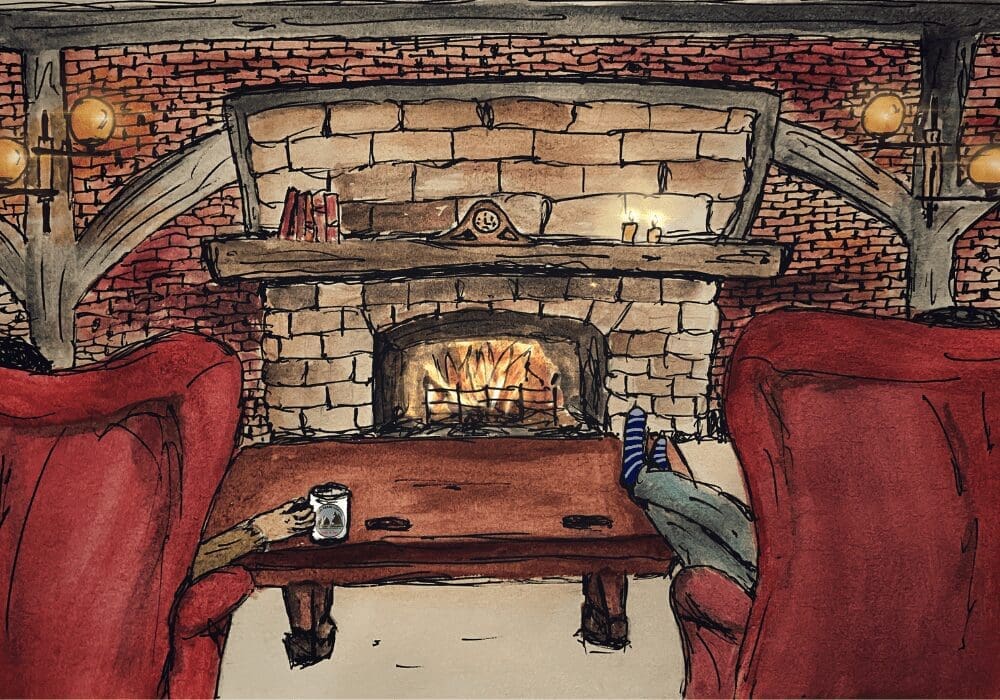 The Fireside
During the summer evenings you'll find me outside by the fire-pit with a hot chocolate. When the weather turns cold I move inside and get the log fire roaring.
I'll pour you a mug of something tasty as we chat about our big dreams, the challenges we face right now, and life's deep questions.
This is where you'll find resources I use with coaching clients, including short courses and opportunities to work One-to-One with me personally.
The Café is the heart of the community inside The Haven. It will cater for you whatever you are after.
Need some inspiration, encouragement, and support from people who 'get it'?
Want to meet fellow gentle souls from all around the world who see, feel, and think about things with the same spirit as you?
Would like to explore new creative interests, share what you're working on, and learn from other quietly creative souls?
If you replied yes to any of those questions then you'll love The Café!
The Café is divided into a few core community groups, where you will find conversations related to particular fields.
The core groups are:
'Creativity and Play' (explore creative interests, learn new skills, and share your journey)
'Mind, Body, and Soul' (dive into conversations about psychological, spiritual, and physical personal growth and development)
Smaller Talk and Gentle Conversation (we can chat about stuff like where we're from, our favourite TV shows, or the funny thing that happened today)
There are regular live events inside the Café and Public Courtyard. You can access the happenings on the site itself. These are a great chance to grow relationships and learn from other like-spirited gentle rebels from around the world.
Events Include:
Café Hour: a weekly session where we work quietly on our own thing alongside one another...this is perfect for ring-fencing time to do the important (rather than urgent) stuff with a sense of community and accountability
The Kota: regular gatherings when we explore certain topics and resources, often related to the monthly theme
Pop-Ups: every so often we will have a movie night, games session, or creativity co-lab
Book Club: you can meet us in the Library where we will dive deep into a book together
In The Haven we explore nine core Themes of Being throughout each year. These provide a core around which our community activities and Theatre Resources are weaved.
The Theatre plays host to new videos, interviews, and creative projects that reflect these themes. These resources are archived under themes such as relationships, work/career, creativity, health, general wellbeing, and personality psychology.
Every year the theme has a distinct feel and energy. It's exciting and fascinating to see how the themes evolve, grow, and dance each time.
The Nine Core Themes are:
Change (September) | Belonging (October) | Serenity (November) | Strength (January) | Confidence (February) | Adventure (March) | Creativity (May) | Tranquility (June) | Inspiration (July)
As a member you will receive a personalised feed that you can use to get updates straight to your favourite podcast app. This means that you get the latest audio content delivered automatically to your devices.
Some of the most meaningful conversations take place at life's proverbial 'fireside'.
In The Haven this is the space to reflect on our dreams, explore the possibilities, and get excited about what could change in life when we open ourselves up to the potential for deep transformation over time.
The Fireside is somewhere to remove our shoes, put our feet up, and take a moment to pause. Let's reflect on what matters most.
This is somewhere we can step away from the busyness and noise of everyday life, and take stock of what's been going on. It's an opportunity to recallibrate and reorientate ourselves in sync with the direction of becoming that deep down, we truly want our lives to take.
Do you want to create more? To find time for your health, important relationships, or making some change in your life?
Whatever you want to shift right now, we can sit by the fire and hatch a plan.
The mini-courses are designed to give you a short and simple way to address a specific issue that you're facing right now.
They are self-paced so you can work through them in a way that suits you and your schedule.
The Library contains a curated archive of interviews, eBooks, creative projects, and miscellaneous resources that has grown since the The Haven's inception in 2014.
This is a perfect location to spend a quiet afternoon, diving into the world of creativity, personality, and gentle rebellion.
Monthly Themes
Each year we go through nine core Themes of Being. You will find our previous excursions in The Library. So whether you just want a fun rabbit hole dive or you're looking for different angles on the same topics, this is a simple way to get there.
Resource Archives
Since 2014 I have conducted hundreds of interviews and shared many vlogs and podcasts. I have whittled these resources down and curated an archive of only the most useful and interesting ones.
The reference library is simple and easy to navigate by relevant categories.
Gallery and Stage
During 2020/2021 when we were locked down, I did some livestream gigs from the comfort of my own home. They are available to enjoy in the Gallery area.
This is where we share creative collaborations and projects that we have done as a community.
eBooks
A collection of free eBooks to help you with your journey into creativity, personal growth, and gentle rebellion.
I imagine you've arrived here because you are a reflective person with a caring, creative, and compassionate spirit?
You know there's so much more within you, waiting to burst into life. But maybe you don't quite know where to start or how to bring it out in a way that feels good to you.
You're where you're supposed to be!



Welcome home.