What do the photographs you take and choose to share say about you?
What might your photographs be saying to you?
Have you ever thought about those questions?
We're nearly all photographers these days. Most of us carry cameras in our pockets and it's so simple to pull them out and capture a shot whenever the mood takes us.
But how mindful are we of this process? What goes on when we take the photo? And how do we feel when we view them?
Photography can be a wonderful metaphor for how we engage with our lives. The challenges, the possibilities, the shadows, and the parts that only become obvious when we take the time to truly notice and reflect on what's really going on.
Introducing Photoyoga For Your Mind
Photoyoga encourages the development of creative awareness and self-knowledge through photography. It helps you become more familiar with recognising emotions, stories and beliefs through the photos you take.
Over the course of seven weeks, Tuula takes us on a deep dive into various aspects of photography. Through the basic use of a camera you are likely to pick up some creative and technical skills alongside the main focus, which is the use of photography to stimulate mindfulness and observation. So you can raise inner-awareness about what sits beyond, beneath, and within the photos you take.
During the course you will discover more about your creative voice and personal sound. You will begin to illustrate your own story; cropping out irrelevant narratives, identifying hidden emotions, and becoming comfortable truly seeing yourself and letting others see you too.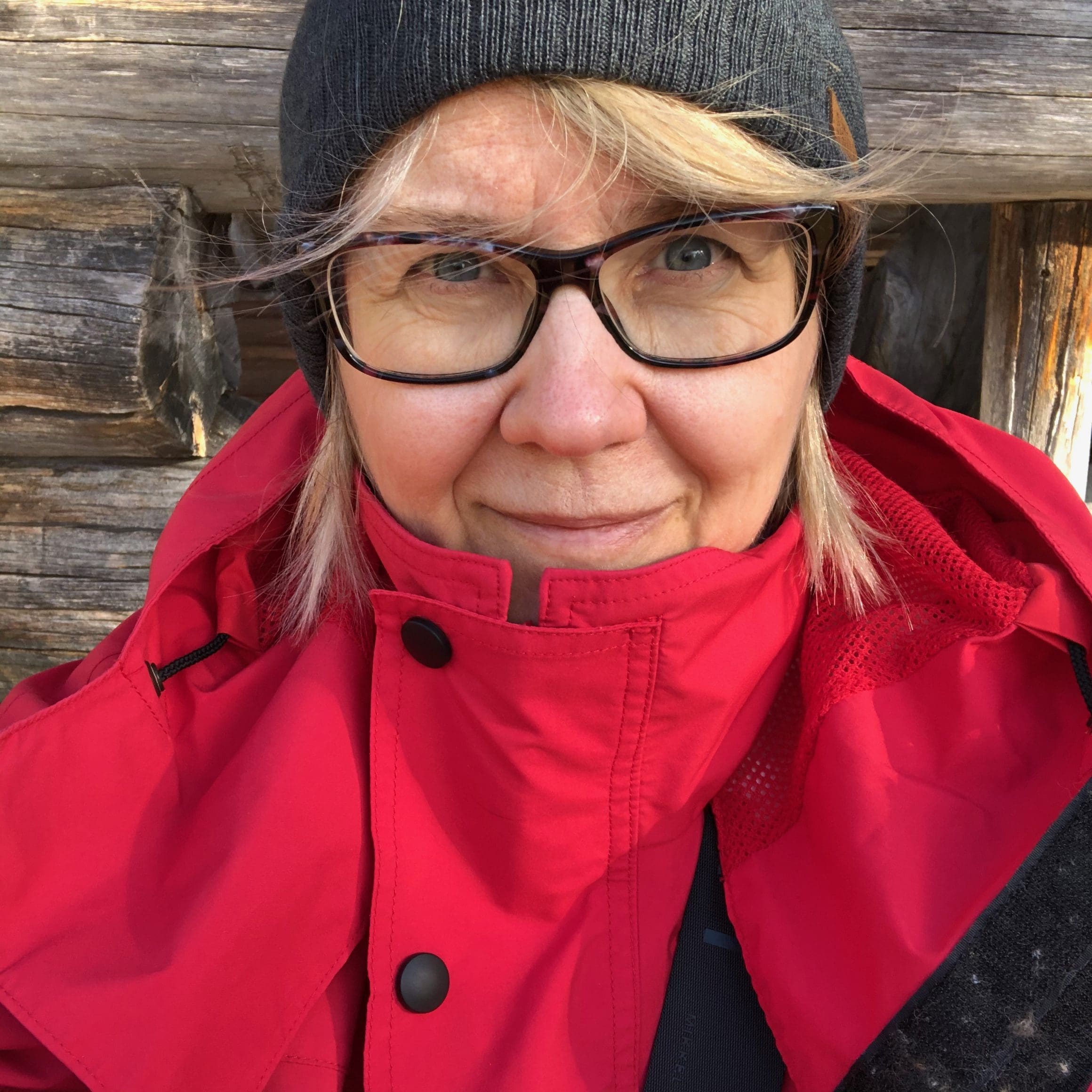 Photoyoga was co-created by Tuula Ahde in 2017 with a fellow photographer who is also a psychotherapist. They had both intuitively used photography as part of their recovery.
They inadvertently discovered novel ways of combining simple creative acts with developing deeper self-understanding, awareness, and expression. And since then have journeyed with many people in building new resources for their own recovery and healing.
Creativity can give us a voice when we can't find the words. It can nurture strength when we feel broken. And it can provide simple actions to take when we feel unmotivated or unclear about what we need to do.
Tuula has been running Photoyoga on her own since 2019. Until now she has run the course with Finnish speaking Photoyoga-ites. So we were really excited to first introduce The Haven Edition in 2022, which is the first version translated and adapted from Finnish into English.
Tuula is The Haven Sous-Chef, so you will see her in and around the virtual village when you join. She is an active part of the community, and you will almost certainly find her in one of our live happenings!
Photoyoga is not just a course. It's a journey.
You will take photos throughout our time together. This will help you notice new things and document the experience, giving you an active journal of your growth along this road.
A new theme is introduced each week. These have been designed to help you become familiar with a particular aspect of photography, encouraging you to grow your skills if you want. And alongside this is the gentle invitation into seeing beyond the image. The photos you take will deepen your adventure, as will the conversations you engage in with your travel companions. We are in this together!
It doesn't matter how good the photos you take are from a technical perspective. The important part is how they feel and what they mean to you personally. Photoyoga is mindful and intuitive photographing with whatever equipment you have – Tuula only uses mobile phones to shoot.
Focus | we will pause to look at ourselves, to really see where and who we are right now
Light and shadows | we hunt shadows and get familiar with their presence in the world
Shutter and shield | we will notice our shields, identify the core sound behind our shields and recognise how it speaks through our creative voice
Story | we will reflect on the story behind our sound, fill in plot holes and adjusting character arcs
Cropping, boundaries | we will be embracing the spaces, finding the edges, and cropping out the unnecessary noise
Editing, post-processing and recovery | we will set habits for processing, learning to recognise what we need, where it's needed, and how to find it
Wrap-up and closure | we will bring everything together, as we notice how the end gives space to pause and celebrate a little, calmly be in-between before a new beginning
An important part of Photoyoga is having somewhere to share our photos and reflections.
Becoming open to give and receive comments really helps deepen the experience and the potential for even more self-awareness and personal growth.
You are invited to share your images and comment on the photos uploaded by fellow travellers.
There is no pressure to post your photos, but if you are open to this process you might be surprised by how much more you see in them. You will also learn to notice more in your own images as you read the thoughts and feelings they have evoked in others.
Through this journey you will build a practice of patience and mindfulness. There is no rush to get through the tasks, but rather an opportunity to create with thoughtfulness, intuition, and an emphasis on noticing what's going on within.
You will also learn over our time together how to pick the images that mean the most to you personally. Letting go of the desire to please others or look a certain way, you will develop your discernment and confidence in recognising the images that truly impress you. Making you stop, look, and feel something.
What Will Be Expected From Me?
There are no expectations or pressures on you.
It might go without saying that you will need a basic knowledge of the camera you choose to use (whatever that may be!). And an interest in using it (and the photos you take), as a tool to learn more about yourself.
We simply invite you to be open with yourself; to listen, grow, and come on this adventure. People tend to get the most out of this journey when they are willing to be challenge themselves slightly when responding to the prompts.
We encourage you to be vulnerable with the prompts and to return to your comfort zone when sharing what you feel safe and comfortable within the group.
It also contributes to the power of the experience if you're able to engage with other people's photos. When we are encouraging, responding to, and supporting one another, it can become a truly magical process.
"I thoroughly enjoyed the PhotoYoga!! Even though I didn't do the last few lessons with the group I did go through each one. It's such a beautiful, meaningful and fun course. Thank you and Tuula!!"
- Gillian
"I learned so much about myself (again!) through not only doing the prompts and writing about them, but hearing the reactions of others, and especially Tuula. She sees deeply into people and is so generous with her attention to everyone in Photoyoga.
Learning about other people's stories helps me know we have so many shared thoughts and feelings even though our experiences differ.
It was such a wonderful, supportive, and positive way to get to know other Havenites better. 
I can't wait to do it again. And Tuula is the consummate guide throughout."
- Zoie
"I was looking for a photography class that would push me to greater depths and insights than I was getting by just sharing photos on Instagram. The Photoyoga class gave me exactly that: Tuula got us to really explore inside ourselves as we photography the outside world, and I ended up learning a lot about myself as a result.
I also really appreciated going on the journey with other students. I ended up becoming more excited about taking new kinds of pictures (something that didn't happen with a course I took from a prestigious photography school). I wholeheartedly recommend Photoyoga to anyone interested in taking pictures!"
- Emmon
Photoyoga For Your Mind is Currently Closed
If you'd like to hear the next time Photoyoga runs, just pop your details below and I'll send you an email when it opens.
DISCLAIMER:
Please be mindful of your own emotional and mental health capacity when engaging with the course. Photoyoga is not designed to be used as a therapeutic intervention and those facilitating it aren't trained therapists or counsellors. Some of the texts might trigger certain things for you, or lead you into intense thought patterns. Choose the most appropriate approach for your current situation.